Coalition Member Resources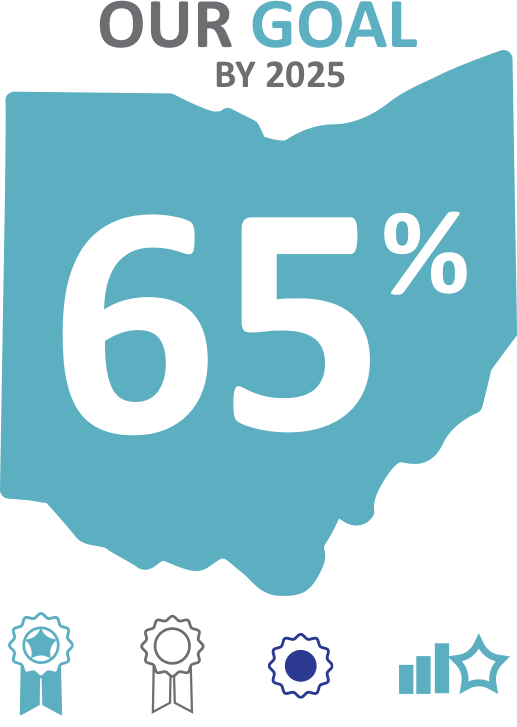 of Ohioans 25-64 will have a degree, certificate, or other postsecondary credential of value in the workplace.
Complete to Compete Ohio is a communications campaign created by the Ohio Attainment Goal Steering Committee, a public-private partnership led by Philanthropy Ohio.
We inform policymakers, education, business, philanthropy and community leaders about the importance of and potential solutions for closing Ohio's postsecondary educational attainment gap.
Ohio's ability to attract and retain jobs is the key to our economic future and hinges on the educational levels of our residents.
Resolution and Fact Sheets
Infographics
Social Media Infographics
ZIP files
These zipped files contain JPEG images formatted for Facebook, Instagram and Twitter.
The Urgent Need for More Postsecondary Graduates Infographic
How Ohio's Completion Rate Compares Infographic
Ohio's Postsecondary Enrollment Numbers Need to Increase Infographic
Ohio Institutions Have Curbed Tuition Increases Infographic
How Students Reduce Education Costs Infographic
Reducing Education Costs by Earning College Credits While in High School Infographic
Choose Ohio First STEMM Scholarship Funding Infographic
Missed Financial Aid Opportunities Infographic
Ohio Means Internships and Co-Ops (OMIC) Infographic
Efficiency Enhances Affordability and Value Infographic
Postsecondary Completion Gaps by Race Infographic
Ohio's Continuing Funding Gap Infographic
Logos
Logos
ZIP files
This zipped file contains color, black & white logos and brand guide.